Welcome to the Nuclear and Radiation Engineering Program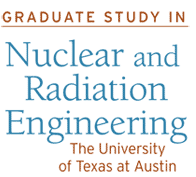 The Nuclear and Radiation Engineering Program (NRE) is seeking qualified graduate students for MS and PhD degrees. The NRE program is particularly interested in applicants with a strong background in mechanical or chemical engineering, physics, chemistry or applied math. This is a small, dynamic graduate program within the Department of Mechanical Engineering with strengths in nuclear fuel cycle, nuclear forensics, nuclear non-proliferation, applications of robotic handling of special nuclear materials and neutron beam port technology.
Educate the next generation of leaders in nuclear science and engineering.
Conduct leading research at the forefront of the national and international nuclear community.
Apply nuclear technology for solving multidisciplinary problems.
Provide service to the citizens of Texas, the United States and the international community.
Other Research Opportunities

Materials Engineering
The Materials Science and Engineering , MSE is a major technical area within the Mechanical Engineering Department at The University of Texas at Austin and there are close research collaborations in various research projects using the facilities at the Nuclear Engineering Teaching Lab. Visit Materials Engineering
Operations Research/Industrial Engineering
The Operations Research Group/Industrial Engineering (ORI), is a major technical area within the Mechanical Engineering Department at The University of Texas at Austin and there are close research collaborations in optimal decision making and the modeling of deterministic and probabilistic systems.
Visit Operations Research/Industrial Engineering