August 30, 2016
Senior Design Class
August 31, 2017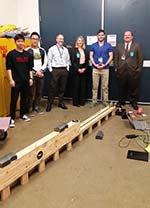 The team worked with their sponsors from Los Alamos National Laboratory (LANL) to design and simulate an automated method to transfer a 2-ton fuel assembly from the containment vessel to a storage pool while under water and with safeguards monitoring capability. The system would be meet Nuclear Regulatory Commission and International Atomic Energy standards for safeguards and safety and function with minimal maintenance for 50 years. The system was designed and a scale model was built and tested at the at the Nuclear Engineering Teaching Lab to demonstrate system performance. The design team included Di Sun, Haewon Kim, Dr. William Charlton (Director NETL), Dr. Carolyn Scherer (LANL), Isaac Kravitz and Dr. Erich Rauch (LANL).
August 30, 2016
Exploring Nuclear Waste Disposal Methods
August 31, 2017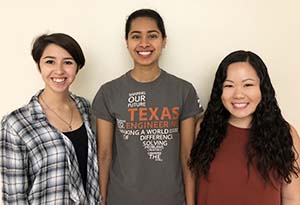 Madison Suarez (left), Nithya Ketavarapu (center) and Christine Lin (right) are exploring nuclear waste disposal methods in the United States as part of their upper division Mechanical Engineering Communication course. This course is to develop professional communication skills for engineers, with emphasis on research, writing, and oral presentation on topics of social and technical significance in engineering.
August 30, 2016
Dr. Fabio Mantovani Gives Two Presentations at NETL
August 31, 2017

Dr. Fabio Mantovani from the Department of Physics and Earth Sciences University of Ferrara Polo Scientifico e Tecnologico, Ferrara, Italy gave two presentations at the Nuclear Engineering Teaching Lab (New Challenges of Airborne Gamma-Ray Spectroscopy) and in Nuclear Safety and Security class (Reactor Antineutrinos: A Worldwide Reference Model). Dr. Mantovani will once again host the Maymester Study Abroad Program with Dr. Landsberger in offering Concepts in Nuclear and Radiation Engineering at the University of Ferrara.
August 30, 2016
Brianna Barth Chosen as Finalist for the President's Student of the Year Award
August 31, 2017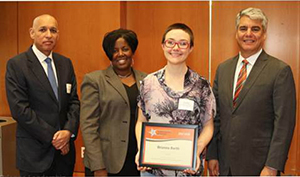 Brianna Barth was selected as one of 10 Finalists in UT Austin's 2017-2018 competition for the President's Student Employee of the Year Award. She was nominated by Dr. Derek Haas based on her work as an Undergraduate Research Assistant in the Nuclear Engineering Teaching Laboratory and her accomplishments in that position are extremely impressive. Brianna will receive an employee bonus of $100, generously funded by Texas Performing Arts. Brianna accepts the award from President Greg Fenves (right), Dr. Soncia-Reagins-Lilly, VP for Student Affairs and Dean of Students (middle) and Darrell Bazzell, Senior Vice President and Chief Financial Officer (left).
August 30, 2016
Brandon De Luna Wins 2nd Place for Poster
August 31, 2017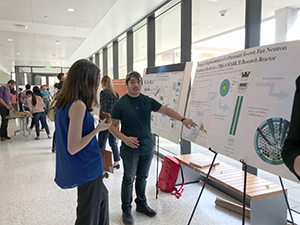 Brandon De Luna wins 2nd Place for the Poster "Design of an In-Core Fission – Spectrum Neutrons Irradiation Facility with Pneumatic Sample Transfer at a Research Reactor during graduate recruiting event from March 1-3. Each year some 25-30 Mechanical Engineering graduate student applicants in all the technical areas are invited for a 3-day event. As part of the recruiting efforts current graduate students present posters on their current research. Brandon is currently Dr. Derek Haas's PhD student and is supported on a Department of Homeland Security grant.
August 30, 2016
Dr. Landsberger and Dr. Charlton Receive 4-year Grant from Los Alamos National Lab
August 31, 2017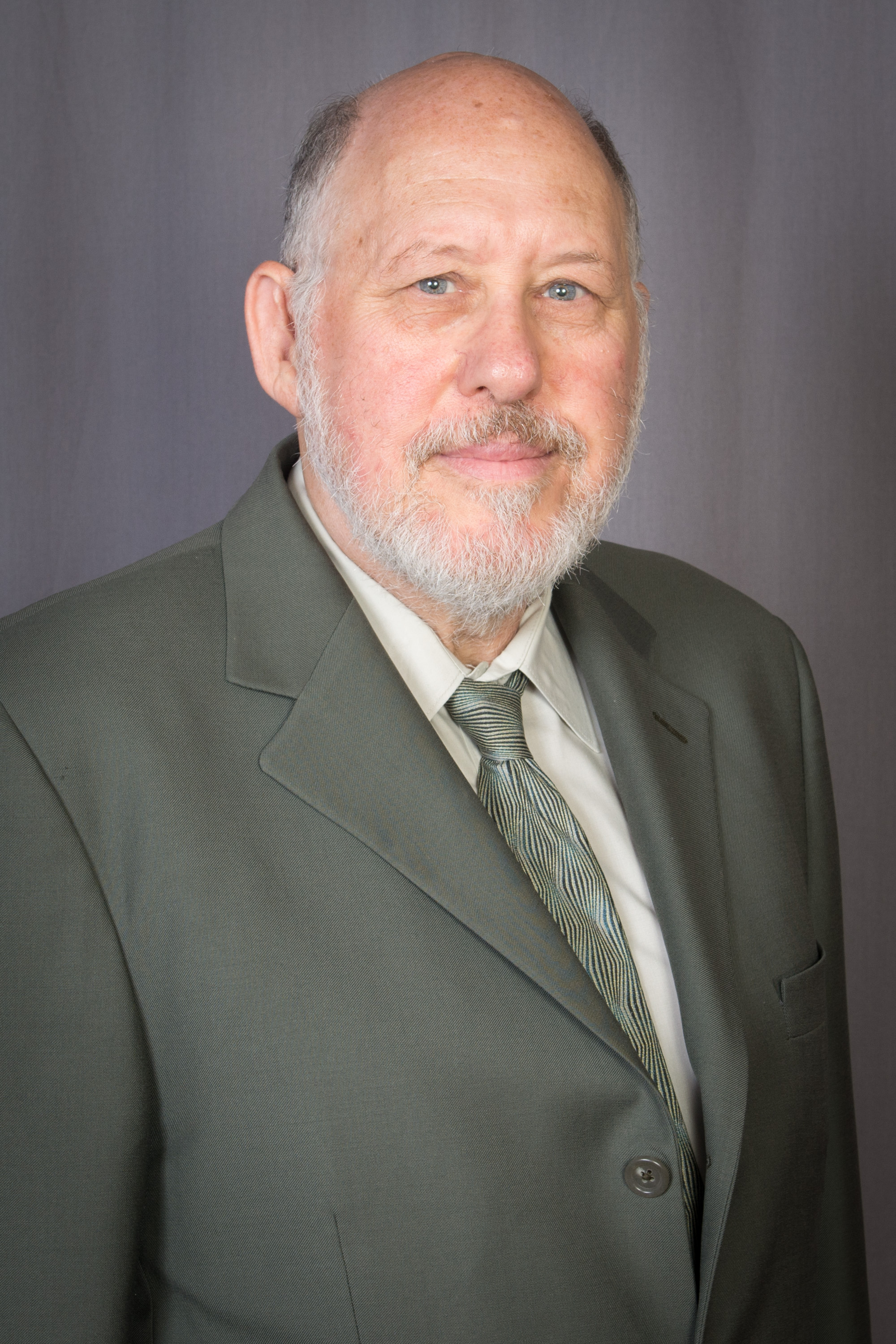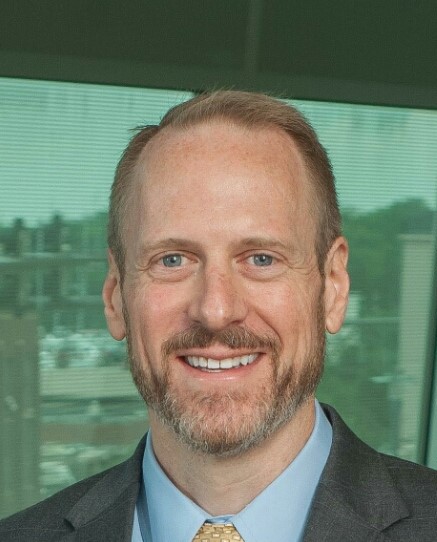 Dr. Sheldon Landsberger and Dr. William Charlton receive a 4-year $771,000 grant from Los Alamos National Lab for support of several staff distant learners as well as graduate and undergraduate student support in the Nuclear and Radiation Engineering Program (NRE). A strong commitment between the Los Alamos and the NRE distant learning program at the University of Texas continues to flourish. At present a total of 15 LANL staff members are completing their MS and PhD degrees.
August 30, 2016
Kayla Kelly Presents Fall Research Work
August 31, 2017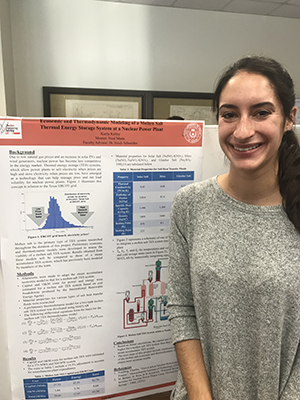 As a continued commitment to undergraduate research Junior Kayla Kelly presented her fall research work on Economic and Thermodynamic Modeling pf a Moltern Salt Thermal Energy Storage System at a Nuclear Power Plant. PhD Student Neal Mann was her mentor and Dr. Erich Schneider was the faculty advisor. Typically only a dozen Mechanical Engineering students partake in this effort each semester. A full report and poster session is obligatory.
August 30, 2016
Dr. Landsberger Reappointed as Editor
August 31, 2017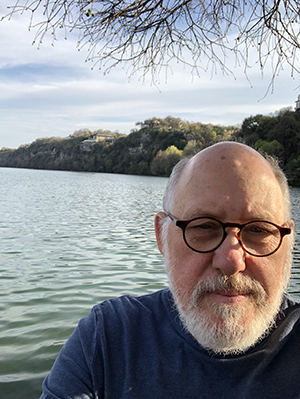 Dr. Sheldon Landsberger has been reappointed for 3 years as Editor, Journal of Environmental Radioactivity, Special Issues and Reviews till 2021. This international journal is a monthly peer-reviewed scientific journal on environmental radioactivity and radioecology. It was established in 1984 and is published by Elsevier. Its editor-in-chief is Stephen C. Sheppard (ECOMatters Inc.) and is an affiliated journal of the International Union of Radioecology. The 2016-2017 impact factor was 2.31.
August 30, 2016
Dr. Sheldon Landsberger Teaches Gamma Ray Spectrometry Workshop in Israel
August 31, 2017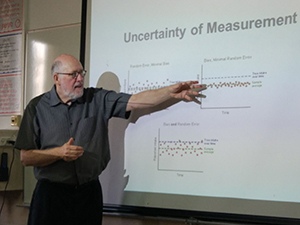 Dr. Sheldon Landsberger gave a three-day workshop from February 20-22 to the Nuclear Engineering Unit at Ben Gurion University of the Negev, Israel. The workshop was very well attended by students and staff members from national laboratories. A wide range of gamma-ray spectrometry topics were discussed. This is the first time such an intensive workshop was given to the Nuclear Engineering Unit.
August 30, 2016
Study Abroad at University of Ferrara 2017
August 25, 2017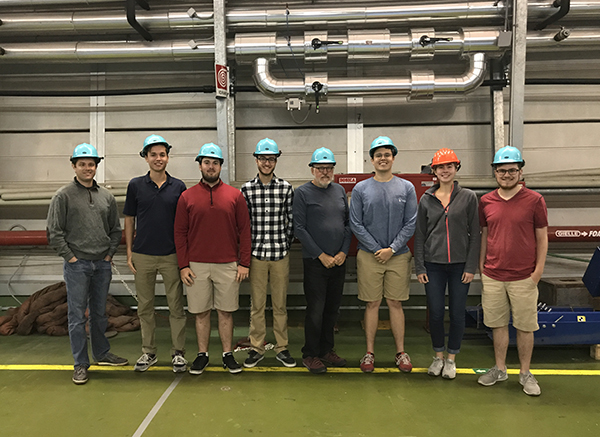 For the 6th consecutive time Dr. Landsberger has led a Maymester Study abroad program giving the undergraduate course "Concepts in Nuclear and Radiation Engineering". In 2017 thirteen students from the Cockrell School of Engineering, including six and one Teaching Assistant from Mechanical Engineering , and three from the College of Natural Science attended the University of Ferrara for one month. Included in the course work and four laboratory sessions were special lectures given by invited professors and two trips to the research reactor in Pavia and the world famous underground physics laboratory in Gran Sasso. In the picture Dr. Landsberger is with the seven ME students.